Introduction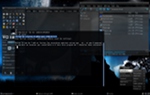 Hybrid ISO images. Enhanced KMS support, experimental 3D with Nouveau driver for nVidia cards. The persistent home partition can now contain add-ons, archives adding anything to the Live! Hot-copy to RAM possible, including add-ons. Linux 2.6.32.7 kernel, X.org 1.7.5-rc1. Released on 2010/02/06.
Environnement
On peut personnaliser l'environnement d'un clic droit sur le bureau. Un menu dynamique des applications installées y est aussi disponible.

Il est possible de créer une partition /home persistante pour garder sa configuration et ses documents d'une fois sur l'autre.
La partition /home persistante peut également contenir des add-ons, qui sont des archives modifiant et/ou ajoutant tout ce qu'on veut à la live !

On peut copier la live en RAM à chaud avec ses add-ons, pour enlever le média et laisser le pc tourner.
Paquets ajoutés : palimpsest, tree, pilotes xorg unichrome & fbdev, dcfldd...
Important
Script de mise à jour de la 0.5 (indispensable pour les migrations de config) :
update-ctkarch-0.5.sh