Introduction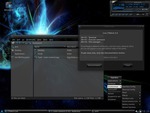 Translated to English/French! Complete early KMS and good 3D support; copy-to-RAM options at boot. Addons supported on the CD itself. HAL deleted: faster boot! Added Sylpheed, volumeicon… Linux 2.6.35.8 kernel, X.org 1.9.2. Released on 2010/11/03.
News
The live is copiable to RAM at boot and when running, along with the add-ons and the home's partition personal folder, to remove the media and continue using the computer.
HAL deleted, now using udisks, upower… to manage the same functions with Udev.
Updates should work much better than with v0.5: initscripts, pcmanfm, fbpanel, nouveau, etc… now come from the Arch repositories.
By default, repositories are frozen to the release date of the Live, to allow installation of new software without necessarily updating the system.
To get back to the rolling release update system, you'll just need to comment out/remove the ARM line in /etc/pacman.d/mirrorlist.
Installer rewritten; BTRFS support at installation.
Various keyboard maps are available at bootup. (gb/uk, us-intl, dvorak-us)
The default font becomes DejaVu Sans Condensed. Problems with web browsers' widgets and the dark theme solved.
Thanks to Fabien Rendu (aka Coolgeek) for the lightweight GTK welcome dialog.
Added packages: sylpheed, volumicon, jumanji, gsimplecal, obkey, transset…
Downloads: